Your smile faces a lot of challenges: decay, injury, gum disease, aging, and more.
Preventive dental care and other dental treatments can provide you with a beautiful smile and can help you achieve your best dental health.
At All About Smile Dental Group, your smile is our top priority. That's why we offer various preventive, cosmetic, and restorative dental services.
All dentists are the same, right? Wrong. Unlike general dentists, prosthodontists have completed three extra years of rigorous training in general, cosmetic, and restorative dentistry in a program recognized by the American Dental Association (ADA). All About Smile Dental Group has the dental expertise to treat your dental needs.
Not only do Dr. Tabari and Dr. Nguyen have the experience you need, but they also provide you with the gentle touch and high quality of service that you deserve.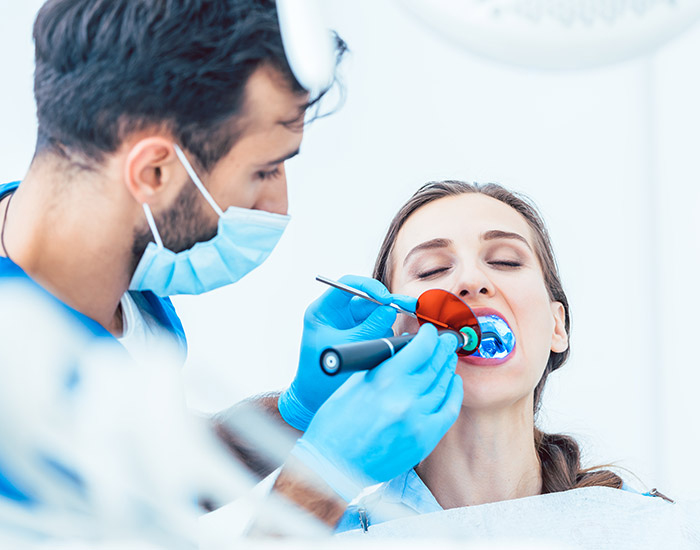 Repair Your Smile with Restorative Dental Services
Don't let a missing or chipped tooth, dental decay, or misaligned teeth detract from your smile and cause you pain or embarrassment. Repair your smile with one of the many restorative dental treatments we offer, including:
Dental crowns and bridges
Complete and partial dentures
Dental implants
Inlays and onlays
Invisalign® clear braces
Some of the cosmetic dentistry treatments offered at All About Smile Dental Group include:
Porcelain veneers
BriteSmile® and other teeth whitening treatments
White, natural-looking fillings
Invisalign-clear braces
Restore the Function of Your Smile
Do you have worn teeth due to a misaligned bite? Is your jaw popping and causing you pain? Are you dealing with various dental problems that make it difficult to chew food?
Restore function to your smile and free yourself from dental pain with:
Full-mouth reconstruction
Bite adjustment
TMJ disorder treatment
Find All the Services Your Mouth Needs
You don't have to live in pain or be embarrassed by your smile. Whatever dental needs you have, we can help. Schedule an appointment now, or pick up the phone and ask to talk to one of our smile gurus. At All About Smile Dental Group, you will receive compassionate and professional care.
Our All About Smile Dental Group team consider every patient a member of our family. We look forward to the opportunity to speak with you, listen to your concerns, and find a simple and effective solution. If you are interested in improving your oral health.