It's estimated that up to 75% of Americans over the age of 35 suffer from gum disease. In some of these cases, the condition is serious enough to require surgery—which can be both uncomfortable and expensive. Fortunately, new technology has entered the dentistry field that not only makes many of these surgeries non-invasive, it can also help prevent these diseases from developing in the first place.
Laser dentistry can successfully treat many cases of periodontal disease, helping to minimize or eliminate the need for surgery. Our team is happy to provide you with more information about our laser dentistry treatments; visit us today!
During your consultation, we can examine your current periodontal condition, walk you through the laser procedure, and help you determine if laser treatment is a good option for improving and maintaining your healthy smile.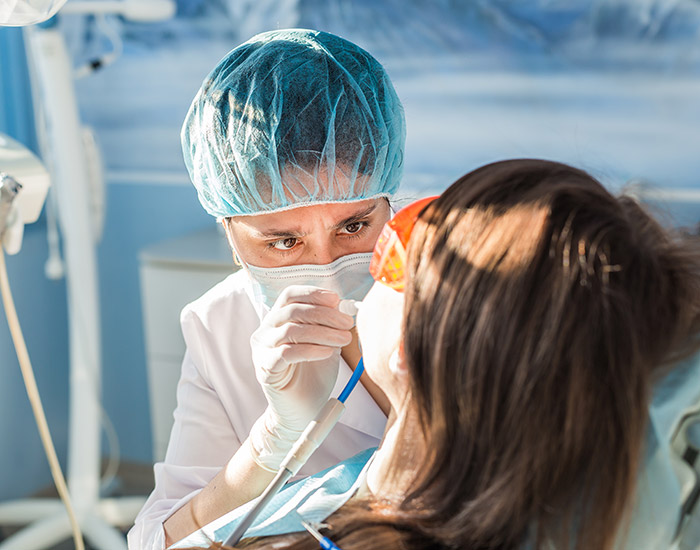 Laser Dentistry Benefits
For nearly two decades, lasers have been used for restorative and cosmetic purposes in dentistry. Today, lasers are approved for safety by the Food and Drug Administration, and they have become much more prevalent and standard in dental offices across the country. Lasers work by delivering energy in the form of light. This energy can be used to achieve accuracy and precision when shaping the gums, biopsying oral tissues, removing tooth decay, and killing bacteria during a root canal. Lasers are even being used for elective procedures, such as to expedite in-office tooth whitening.
Our doctors pride themselves on patient comfort and results. This is why our offices provide state of the art procedures using the finest in dental equipment. If you have questions about any of our Encino Dentist services please call our office today.
Frequently Asked Questions
Could I benefit from laser dentistry?
Possibly. Laser dentistry is generally not used in examinations and cleanings. However, if you need a filling, root canal, biopsy, periodontal treatment or tooth whitening, a dental laser could provide a better overall experience and recovery. To find out if laser dentistry is right for you, schedule an appointment to meet with your dentist and discuss your options for treatment.
What should I expect during a laser dental treatment?
Your experience will be similar to those you may have had before, only without the pressure, vibrations and sound of a dental drill. Just as with traditional dental treatments, you will be anesthetized before have laser treatment. However, because dental lasers may help minimize pain, you may not require as much anesthesia as you would with a non-laser treatment.
Does Laser Dentistry Hurt?
Your post-treatment care will not differ from the instructions you would have from a dentist using a drill or other dental tool. However, you may find that your recovery time is shorter and that bleeding is minimal immediately following your treatment. Laser Dentistry should provide pain free results.
Our All About Smile Dental Group team consider every patient a member of our family. We look forward to the opportunity to speak with you, listen to your concerns, and find a simple and effective solution. If you are interested in improving your oral health.